CCL Regional Network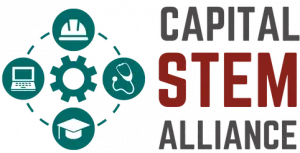 Bridging the Gap Between Students and Their Futures
Career Connected Learning (CCL) stems from House Bill 2158 legislature and seeks to ensure that all Washington students have multiple pathways toward employment and economic self-sufficiency. By connecting and creating partnerships, our districts, industry, government, and institutions of higher education can build opportunities that expose K-12 students and young adults to a variety of careers and real-world experiences.
CCL is supported by a statewide network that seeks to provide data-informed technical assistance while building equitable student access and improving student outcomes.
Connecting Districts and Employers
Career Connected Learning Administrators connect, convene and support K-12 districts, businesses, military partners, and colleges. Our goal is to support Awareness, Exploration, Preparation, and Career Launch activities within school districts throughout the region.
The Career Connected Learning Framework
Career Awareness
Learning about work
career fairs
worksite tours
guest speakers
Career Exploration
Learning for work
informational interviews
networking events
job shadowing
Career Preparation
Learning through work
career and technical education (CTE) courses
on-site internships
youth apprenticeship
Career Launch
Learning in work
clinical experience
on-the-job training
apprenticeship
In 2017, Governor Inslee designated $6.4 million in federal funds from the Workforce Innovation and Opportunity Act to support Career Connect Washington, an initiative designed to connect 100,000 students over the next five years with employer internships, registered apprenticeships, and other career connected learning to prepare them with high-demand jobs. The Career Connect Pacific Mountain coalition received $977,000 to engage students in career connected learning.
This approach to learning puts young people on the pathway to a postsecondary credential and a successful career. We help students access internships, job shadowing opportunities, and technical training programs so they're ready for high-demand, family-wage jobs.
STEM Network
Students need strong science, technology, engineering, arts, and math (STEAM) skills to pursue Washington's highest demand career pathways — from building airplanes to monitoring the health of apple crops to researching cancer treatments. Capital Region ESD 113 and Washington STEM created the Capital Region STEAM Network to close credential attainment gaps. The network works with business leaders and educators to link Washington students with STEM careers.
The goal of the network is to increase the number of local students who become STEM professionals in a variety of sectors in our region, especially students of color, young women, rural and remote youth, and students from low-income families.
RALLY
The Regional Alliance for Youth (RALLY) is a collaborative, region-wide effort to support children and youth from cradle to career for life-long success. We believe that bringing people together to work on behalf of children and youth is crucial to making a difference in our communities. Our coordinated efforts stem from our common goals and shared vision of every individual building a positive future for themselves and their community.
Our Goals
Increase high school graduation rates.
Increase enrollment in post-secondary education.
Promote strong interpersonal and career skills development.
Consortium Partners
Grays Harbor Cradle to Career Consortium
Lewis County Thrives
Mason Consortium for Student Success
Thurston Thrives Partners
Resources
In case you missed it: Washington state wins federal Good Jobs Challenge grant to support career connected training for thousands of students
Capital STEM Alliance & Upward Bound Shelton Financial Aid Information Series
2022 National Youth Science Camp applications are due March 31.
Family Education & Support Services Announces their Fall Carnivalesque Gala 
The Career Technical Scholarship is now open! This scholarship supports Washington residents of any age on their path to high-demand, family-wage careers in the trades, STEM, and health care. Scholarship funds are flexible and can be used to cover tuition, fees, and other costs of attendance such as housing, transportation, food, and more. Learn more and apply.
Spanish-speaking families can register for the Familias Fuertes series, where parents, grandparents, and family members will connect and learn together. Las familias hispanohablantes pueden apuntarse para Familias Fuertes, una serie en la que los padres, abuelos y familiares pueden conectar y aprender juntos. (pdf)
January 2021 Mason County Consortium Meeting (Passcode: F5K+7gXh)
Family Math Night Audio Recording (Passcode: #x#k0!cN)
The Washington State Opportunity Scholarship Spring Career and Technical Scholarship is now open! This scholarship supports Washington residents of any age on their path to high-demand, family-wage careers in the trades, STEM, and health care.
Experience 4-H Virtual Classes
Puget Sound Estuarium videos (YouTube)

Capital Region STEM Network and

Puget Sound Estuarium

are creating videos to teach students about the Puget Sound marine environment

!

New videos will be released weekly
News
The 2021-22 FAFSA and WASFA are now available!
The colleges that students apply to will use the information they provide on their financial aid applications to determine their eligibility for the scholarship.
More information regarding the scholarship requirements
State of Innovation Case Challenge (Sign-up now)
Join middle school, high school, and Open Doors classrooms; along with student and community organizations from across Washington State in tackling some of the state's toughest challenges.  Starting in November, we will ask students to help the state solve problems like…
How can we find a better way to get food from farms to homes and food banks in need?
How can we keep teenagers mentally healthy while social distancing?
How could our urban centers foster community connections while keeping residents virus-free?
The State of Innovation Challenge aims to connect the content teachers are already teaching in class to the problems students see all around them, and encourages students to use their imaginations and skills to create their own solutions.
For questions/info contact: Julia Reed ([email protected]; 202-445-8252)
More information 
Who: The State of Innovation Challenge is a partnership of the Washington STEM Education Alliance, OSPI, WSAC, ESD, Career Connect Washington, and the Governor's office.  It is open to students in grades 7-12, students in Open Doors programs, and WIOA-eligible youth. It is also open to Career Technical Student Organizations and community-based youth programs.
When: The Challenge will be open November-February. The Challenge Cases will be released in November, and throughout the Challenge students will have opportunities to join interactive discussions with industry leaders and learn about post-secondary pathways tied to the case topics.
How: The Challenge is customizable depending on the needs of teachers and students.  There are ways to use the Challenge cases to engage students for an hour, a week, a month, or an entire quarter.  Students can choose to submit their answers to our statewide response forum, where the most creative solutions will be recognized at the end of the challenge event in March 2021.
Support: Teachers and program leaders will have access to videos introducing the cases and an instructional guide with topical research to support lesson plan creation. Sample lesson plans will be available in the "lesson bank," an open educational resource where teachers can also upload their own plans and projects to share with their peers statewide. Teachers will also be able to access one-on-one support throughout the challenge period.
Contact Us
Regional Administrator, Capital STEM Alliance
 818-970-4581
Regional Administrator, Career Connected Learning
 360-209-2160