(By Dana Anderson, Capital Region ESD 113 Superintendent)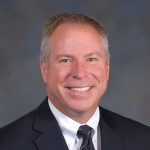 "Winter is in my head, but eternal spring is in my heart," wrote Victor Hugo. The author, poet, and artist was nearing the end of his life, and looking back with longing at his youth, he reflected on the joys, sorrows, and influences of his younger days. We all have moments in our lives we look upon with nostalgia. There is often an impression there were days that were warmer, brighter, and possibly more care-free than the present.
It is spring, a time of renewal and restoration. The cycle of life begins again, with flowers blooming, trees budding, and warm days to embrace us. In the life-cycle of education, spring is the launching pad of newness for students…graduation, moving up grades, preparing for summer, but for educators, spring is the last hill to climb. Our energies are almost spent, and the hopes and plans of the fall are distant memories. We are almost there — "I think I can, I think I can, I think I can," — the mantra that keeps us moving forward.
I have been learning and thinking frequently about hope lately. Hope theory describes the interplay between goals, beliefs, and plans. The pull of a meaningful goal, coupled with the belief it can be reached, and the many paths necessary to reach it…that is hope. Hopeful people believe that the future will be better than today. I am a hopeful person. I believe, deeply believe, tomorrow has the promise to be better than today. I have goals, for myself, for the people I work for, and for the communities I serve. I want them to flourish. I want them to find the best in themselves and bring it out with what the French say, "Joie de vivre" — an exultation of life.
As educators, we have winter in our heads at times. We worry about the students in our care. We struggle with opposing priorities. We find ourselves in conflict with each other, with students, with families. But there is eternal spring in our hearts. We believe in the power of education to transform lives. Because of what we do, we know a life filled with purpose. My reminder to you this spring is to never forget you make a difference. You touch lives, and you leave them better — new knowledge, new relationships, new beliefs about what is possible. You share hope, and you renew the eternal flame of spring.