(By Dana Anderson, Capital Region ESD 113 Superintendent)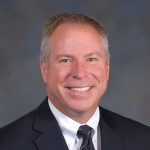 Of Autumn, Robert Frost wrote, "Nothing gold can stay." Autumn brings us back to why we do this work, to make a difference in young lives. We all have different roles to play; cook, custodian, teacher, administrator…but we all provide a unique opportunity, to do something that will outlive us. Greet a child with a smile each day as they board the bus, and inspire them to keep coming to school. Feed a student breakfast, and keep them focused on the day ahead, despite what may be happening at home. Challenge a student to accomplish more than they believe is possible, and help them expand their capacity to hope.
Frost was thinking about falling leaves, when he wrote A Poem for Every Night of the Year. He was writing about the ever-changing cycle of the seasons. Nature puts on one last display of beauty, in vibrant, earthy colors in Autumn. In the fall we see leaves, sunsets, and buses full of students. It is that time of year again. The sap may be falling in the trees, but energy is building within school buildings in our region. We offer kindness, compassion, and encouragement to youth who may feel empty and alone. We provide the golden gift of learning, given to children and students each day. There, do you see it? There is a form of gold that will stay, outlasting us by generations.
Thank you for making autumn such a special time of year.